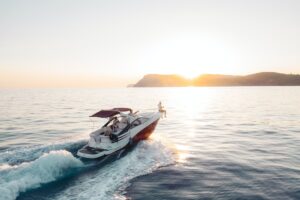 Boaters in Colorado can get out and enjoy the great outdoors and have fun with friends and family on local lakes and rivers. We here are Aspen Gold Insurance Brokers want you to have a safe, fun, and exciting summer on your boat. That includes ensuring you have proper boaters insurance coverage to protect yourself, your family, and your property.
Am I Legally Required to Have Boater Insurance?
Boat owners in Colorado are not legally required to carry boaters insurance to operate their boat or register it. However, as a safety net, it is highly recommended you have boaters insurance if something happens while out on the water.
If you are financing your boat, your lender may require you to carry boater insurance while still making loan payments. Additionally, if you store your boat in a marina, the lease agreement for your space may require you to have boater insurance.
What is Boater Insurance?
Those with motorized boats or sailing vessels can opt to purchase boater insurance. Similar to automotive insurance, boaters insurance covers your boat if it is stolen or damaged in an accident. Investing in affordable insurance helps avoid the risk of facing substantial financial costs associated with a boating accident.
How Much Does Boater Insurance Cost?
The cost for boaters insurance varies, depending upon several factors. Some factors include the boat's size can be used, your driving record, the amount of coverage, and the amount of your deductible. Call us today at Aspen Gold Insurance Brokers for additional information about how much boaters insurance costs.
Boater insurance helps cover you should something happen while out on the water in Colorado. Call us today at Aspen Gold Insurance Brokers for more information about purchasing boater insurance for your vessel. We will ensure you have proper coverage for your property, yourself, and your loved ones.