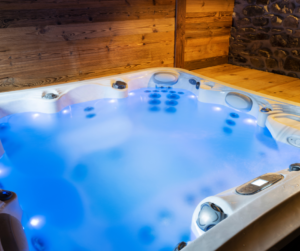 Many homeowners in Colorado have backyard hot tubs, and many of those homeowners ask this question, "Should I have umbrella insurance for my hot tub?" The answer is yes. Umbrella insurance provides an extra layer of protection against potential liability claims that may arise due to activities related to the use of your hot tub.
The Benefits of Umbrella Insurance with a Hot Tub
Umbrella insurance can help protect your financial assets if you are ever faced with legal action due to an accident or injury related to your hot tub use. For example, if someone slips and falls on the wet deck around your hot tub or even in the water, you could be responsible for their injuries. In addition, it can cover medical bills and legal fees associated with such incidents. With umbrella insurance, you would be covered for the costs associated with any lawsuit resulting from the incident.
Umbrella insurance can also cover additional risks beyond physical injury claims associated with hot tubs. This includes protection against property damage caused by storms or other natural disasters and any damage caused by vandalism. Contact Aspen Gold Insurance Brokers in Broomfield, CO, to learn more about the benefits of umbrella insurance with a hot tub and determine if it's right for you.
Umbrella Insurance vs. Homeowner's Insurance
It's important to note that umbrella insurance is not the same as homeowner's insurance—so having one does not mean you don't need the other. That's where umbrella insurance comes in—it provides an extra layer of coverage that homeowner's policies often do not offer.
If you have questions about whether umbrella insurance is right for you, contact Aspen Gold Insurance Brokers today! We are here to help ensure that your home and possessions are adequately protected so you can enjoy your backyard oasis worry-free!