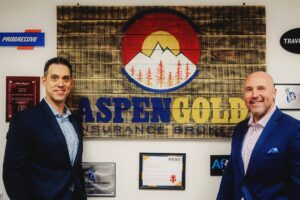 When it comes to purchasing insurance, making the right choice is crucial for protecting your assets and ensuring peace of mind. While there are various options available, one option stands out when choosing an independent insurance agency like Aspen Gold Insurance Brokers. Unlike captive agents who work for a specific insurance company, Aspen Gold's agents offer numerous advantages that make us a preferred choice for many individuals and businesses. Let's explore the benefits of choosing an independent insurance agency like Aspen Gold and why we can be the ideal partner in finding the right insurance coverage.
1. Choice and Independence
One of the primary advantages of working independent insurance agency like Aspen Gold is the freedom of choice we provide. Independent agents are not limited to a single insurance company's offerings. Instead, we work with multiple insurance carriers, giving you access to a wide range of options. This ensures that your unique needs and preferences are met, as we can compare policies, coverage, and prices from multiple insurers. This allows us to focus on finding the best solutions tailored specifically to you.

2. Personalized Service
Independent insurance agents prioritize personal relationships and customer service. Aspen Gold's agents take the time to understand your needs, assess your risks, and design a comprehensive insurance plan accordingly. Our personalized approach means we can offer advice, answer your questions, and guide you through the insurance selection process. When insuring with Aspen Gold, you have a trusted advisor who advocates for your best interests and provides ongoing support throughout the policy term.

3. Expertise and Industry Knowledge
Insurance can be complex, with various policy options and coverage nuances. Our dedicated agents are experts in the field. We possess in-depth knowledge of insurance products, industry trends, and regulations. This expertise allows us to navigate the intricacies of insurance and provide accurate, up-to-date information. We can explain policy terms, help you understand coverage limits, and identify any gaps or overlaps in your insurance portfolio. By leveraging our experience, our agents can ensure you make informed decisions and secure the right coverage for your specific needs.

4. Time and Convenience
Shopping for insurance can be a time-consuming task. Independent agents can simplify the process by handling the legwork for you. Instead of contacting multiple insurance companies individually, Aspen Gold's agents consolidate the information, gather quotes, and present you with the best options. This saves you valuable time and effort, allowing you to focus on other priorities while still receiving expert guidance.

5. Claims Assistance and Advocacy
In the unfortunate event of a claim, Aspen Gold's agents are here to support you. We act as your advocate, working closely with the insurance company on your behalf to help navigate the claims process, provide guidance on documentation requirements, and ensure a smooth and fair settlement. Our primary goal is to protect your interests and ensure that you receive the benefits you are entitled to.

Choosing an independent insurance agency like Aspen Gold Insurance Brokers offers a host of benefits that make the insurance-buying experience easier, more personalized, and tailored to your specific needs. With our broad selection of options, personalized service, expertise, and claims support, Aspen Gold's agents provide a level of flexibility, convenience, and peace of mind that is hard to match. Whether you are an individual seeking personal insurance or a business owner looking for comprehensive coverage, partnering with Aspen Gold Insurance Brokers is a wise decision that can help safeguard your assets and provide you with the best possible insurance solutions.