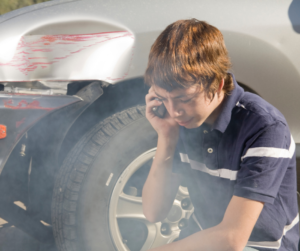 Teen drivers have enough to worry about behind the wheel. That's why Aspen Gold Insurance Brokers wants to make sure your new driver is prepared. Located in Colorado, the agency lists seven steps they should follow immediately after an accident.
Remain calm
Accidents are stressful situations. Being overly emotional won't undo what just happened. Stay focused on the plan you've established.
Check for injuries
Safety is the top priority. Survey yourself, other drivers, and any passengers to see if injuries are present. If so, dial 911. Wait for emergency services to arrive.
Move to safety
If no one is hurt, pull your car, so it doesn't impede traffic. Use flashing lights or flares to signal other drivers to slow down.
Contact police
Whether it's a minor scrape or a major collision, having a police report protects your interests and speeds up the claims process.
Call parents
Now that you're safe, it's time to update your family. Reach out to a parent or guardian to alert them of what has happened. They can help you with the next steps as well.
Document the crash
Start by exchanging information with the other driver. At a minimum, this includes their driver's license and insurance information. Also, jot down the car's make, model, and license plate number. Taking photos will help capture this accurately.
Report the incident
Contact your insurance company with your caretaker to begin filing a claim. Your agent can walk you through the process to see if all necessary information has been collected.
Contact an agent serving Broomfield, CO.
Some accidents are unavoidable. But being prepared can prevent a bad situation from becoming worse. With an auto insurance policy, Aspen Gold Insurance Brokers can help ensure your teen drivers are safe and secure on the roadways. Schedule an appointment today with an experienced insurance agent.