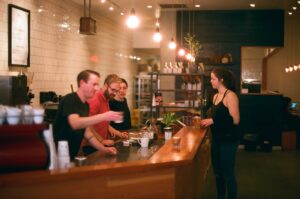 Aspen Gold Insurance Brokers proudly serves the Colorado Community. We offer our clients different policies to help protect their assets. We treat our clients like family, and our personalized approach allows us to meet their needs as they evolve over time.
How Commercial Insurance Benefits the Hospitality Industry
Commercial insurance assists Colorado residents. Your business is one of your most significant investments. While you focus on maximizing profits, commercial insurance protects your business if an emergency arises. The policy covers you if your physical property is damaged. All of your equipment is covered if it is stolen. In the unfortunate event that something happens to one of your clients while they are visiting your business, you can rely on liability insurance.
Commercial insurance protects your business in multiple ways if you are working in the hospitality industry. You constantly strive to ensure that your customers enjoy a safe and comfortable experience. Business interruption insurance covers your business if you have to cease operations for a few weeks. Perhaps a severe snowstorm passes through the area and damages the property. You can also add crime coverage to protect your business against allegations of theft and fraud. If you serve adult beverages, add extra coverage to protect your business against possible legal action due to intoxication. If you operate a hotel, your customers trust you to protect their valuables.  Guest property coverage protects your business if any of your customer's personal belongings are damaged or stolen. You can also add umbrella coverage to provide another layer of protection if a serious issue arises.
Aspen Gold Insurance Brokers Will Help You Protect Your Investment
Visit our website to learn more information about commercial insurance. Our experienced insurance agents are here to educate you on the commercial insurance benefits and find the best commercial insurance policy that is customized to fit your insurance needs.